PistonHeads - August '15
BBR gives the Mk3 MX-5 its own little send off with 225hp and 8,000rpm!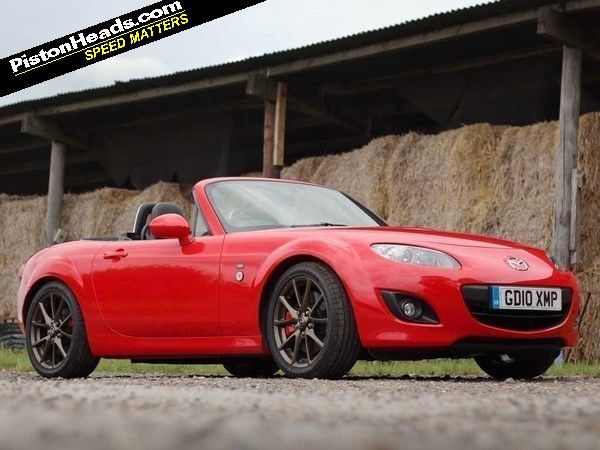 Little doubt, if you're chasing big numbers and an impressive return on investment fitting a turbo or supercharger is a (relatively) cost-effective way of tuning a car. Especially if your starting point is a normally aspirated model regularly criticised for lack of power from stock, like the Mazda MX-5 or Toyota GT86.
Forced induction will let you hold your head high on that rolling road shootout or standing start contest. May even give bag giant killing 'I overtook a GT-R!' bragging rights on a track day. So why on earth would you want to spend as much, if not more, on normally aspirated tuning achieving a fraction of the power gains?Character is one. As you'll no doubt know, BBR offers a 270hp turbo conversion for the outgoing NC MX-5 that can have it nibbling at the heels of some very serious sports cars for relatively little cash. It's a hoot and a commendably refined installation.
But some might argue not entirely in keeping with the MX-5's ethos. Over four generations and a quarter of a century we've learned that Mazda has consistently laid the foundations for a great little driver's car in the MX-5. But never quite delivered one out of the box. If you like the idea but want a bit more focus and a proper translation of the old Jinba whatnot you need some help from the aftermarket.
Blank canvas
The good news is that the NC MX-5's 2.0-litre engine is pretty understressed out of the box and responds well to a bit of fettling. This is, at heart, the same as Ford's Duratec motor used to such great effect in various hot Caterhams and others after all. BBR offers modular packages for this and the 1.8 under self explanatory Super 175, Super 180, Super 200 and – now – Super 225 branding. Need to know the details? Check out our news story on the 'last blast' Super 225 package; here we're off to drive it!
In brief Super 225 builds on Super 200 and adds a full individual throttle body induction system to unleash an excitingly wild sounding 225hp at 7,900rpm. Torque increases from the stock 138lb ft to 175lb ft at 4,500rpm, with 150lb ft available all the way to the limiter. Enough, hopefully, to drown out the predictable hairdresser jibes and turn the MX-5 into something a bit more purposeful. You can add it to a newly bought run-out NC MX-5 2.0. Or hunt one out in the classifieds and bolt it on for a more affordable option. Pre-facelift Mk3s are capped on revs to just over 7,000rpm, later Mk3.5s and Mk3.75s have a stronger forged crank and valve springs from stock so can take 8,000rpm-plus, though BBR's Neil McKay acknowledges all the power is there at 7K so you get the full 225hp whichever car you base it on.BBR's demo car is a Mk3.5, traded in by a customer building a turbo car and, with 70,000 miles, the kind of thing that'd cost you around £10K in the classifieds. It's the best option if you still want a soft-top, all later 2.0s Roadster Coupes. Full PH buying guide on NC MX-5s here if you want more info.
Opening gambit
Immediately on start-up the Super 225 has a much more urgent and purposeful feel about it, the engine revving crisply and enthusiastically with a nice little rasp through the BBR exhaust system. Addressing breathing on both intake and exhaust, BBR's approach is traditional tuning and the package includes inlet ram pipes and extensions, new camshafts for intake and exhaust, a bespoke four-into-one exhaust manifold and new mountings for the stock MAP sensor assembly.Warming up along the adjacent A43 in search of more MX-5 appropriate B-roads the first impression of the power delivery is that it is very linear and, in the BBR style, has a very 'OE' feel about it. Pick-up is keener and the improved breathing gives the engine a sharper edge but it's not immediately punch you in the back fast like the GT270 turbo kit.
When Neil described the standard foam Ramair filter kit as "raucous" and "too much" and told us he'd fitted his demo car with the optional quieter airbox kit we obviously asked him to take it off and put the foam kit back on. Sadly he ran out of time before we arrived so the bespoke airbox was in place. And it certainly does tame the induction scream throttle bodies can add. We've seen a rough onboard video of a test run without the airbox and he's not wrong about the raucous bit. Each to their own but if it was our money we'd take the noise and £200 saving, true sophisticates appreciating that free-breathing induction bark is far cooler than a noisy exhaust!
Wringing it
For those accustomed to 'new-school' engines the idea of wringing a car beyond 7,000rpm is probably a bit of a culture shock. Hell, going beyond '4' on the rev counter these days is probably considered a bit risque and pointless, given the way modern engines deliver their power and torque. But old-school tuning requires old-school dedication to revs and once onto the back roads the Super 225 really comes alive. Anyone who's driven an S2000 will be familiar with the discipline required to push into the red zone on the rev counter and, while it's not quite VTEC feral, the throttle bodies give the MX-5 motor real spice.And the beauty is the stuff you need to make this all come together – a short-throw shift, nice tight gearing, limited-slip diff, great pedal spacing and engagingly chuckable nature – are already there in the MX-5. As previously noted, BBR's spring and damper set-up really works well on the road too, being stiff and low enough to improve poise and body control without ruining comfort or sending any nasty shudders through the bodywork. In conclusion the mods are all very sympathetic to the standard car – it's basically everything that's great about the NC MX-5, just a bit more so.
---
BBR MAZDA MX-5 (NC) SUPER 225
Engine: 1,999cc 4-cyl
Transmission: 6-speed manual, rear-wheel drive
Power (hp): 225@7,900rpm (160@7,000rpm)
Torque (lb ft): 175@4,500rpm (139@5,000rpm)
0-62mph: 7.9 sec standard, none stated for Super 225
Top speed: 136mph standard, none stated for Super 225
Weight: 1,248kg (standard 2.0 Roadster Coupe)
MPG: 36.2mpg (standard, NEDC combined)
CO2: 181g/km (standard)
Price: Donor car plus £3,490 for DIY kit, £4,295 fitted; also available as an upgrade to Super 200 spec cars for £2,495 fitted or as standalone throttle body kit for £1,730; BBR Koni suspension kit £995. All prices +VAT.
More info via BBR here.
Watch the drive-by video here.