PistonHeads - December '15
Can BBR's first round of upgrades release the potential caged in the standard MX-5?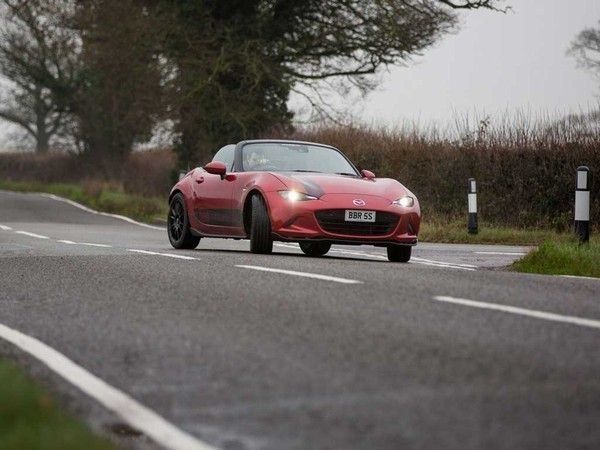 "Out of the box the Toyota is the better driver's car though. The MX-5 is a few subtle tweaks away from brilliance in this regard and there's no doubt some simple fettling could unlock its potential." That was Dan's verdict when comparing an MX-5 2.0-litre Sport with a GT86 up in the Scottish Highlands. Here we are a few months later with a subtly tweaked car that should answer those gripes about the standard MX-5: the BBR Super 190.A quick refresh of the MX-5's issues before we turn to the modified car. Put simply, a mismatch between the factory spring rates and Bilstein dampers fitted to the 2.0 Sport resulted an unexpectedly nervous chassis on roads where an MX-5 should flow. In Scotland it would richochet over bumps, squirm under braking and snap into oversteer in the rain. It was a car that provided the driver with very little confidence, despite the layout and spec sheet suggesting the opposite.
That's not to say it was bad, rather that it felt the MX-5's latent potential had been frustratingly reined in by Mazda. A shame given its committed efforts to reduce kerbweight and stick with atmospheric engines.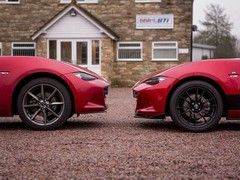 Wider tyres and a 30mm drop do wonders
Stand and deliver
This car promises to be better. Full details on the BBR Super 190 kit are available in our previous story but the important changes are a 30mm suspension drop on progressive rate springs, new wheels and tyres plus gains under the bonnet of 30hp and 28lb ft.Conveniently enough we have another standard 2.0 Sport MX-5 to compare with the Super 190. They're even the same Soul Red colour. And before driving anywhere, before even getting in, the BBR-tweaked car is much more enticing. That suspension drop has done wonders for the stance, lending the MX-5 a welcome extra dose of aggression and assertiveness. It's not daft and slammed, simply lowered to a ride height more befitting of a sports car. The new OZ wheels look great too, shod here in Goodyear Eagle F1s that are 10mm wider at each corner (215/45 R17) than standard. It's visually much more exciting than the rather meek standard car.
That extra excitement and aggression continues on start up. With the roof lowered – what else do you do first in an MX-5? – the sound from BBR's 'Grand Tourer' backbox is all the more audible. Even at idle it sounds more potent than standard; eager, fizzy and ready to rev.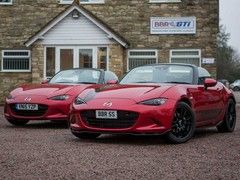 BBR has a more aggressive stance
Dawn chorus
It's a welcome accompaniment on the road too, never intrusive but providing a raspy, rorty noise right out to 7,000rpm. As BBR's quieter option it strikes a really nice compromise between mature and mischievous; don't forget the lighter, louder 'sports silencer' is there if you fancy too…Beyond the more invigorating soundtrack, it's the torque gain of the Super 190 that becomes evident very quickly. Not only is the maximum figure up 28lb ft on standard (148lb ft jumps to 176lb ft), but it's also reached over 1,000rpm earlier (the normal 2.0 needs 4,600rpm, the BBR 3,550rpm). So the impression ifs of more mid-range punch, an increased ability to pull from a higher gear and more confidence at motorway speeds too. It doesn't transform the character of the car, rather lends it some muscle where it was most required.
But with fluids warmed through, who wants to bimble round at less than 4,000rpm? Using that delightfully short-throw gearbox to grab as low a gear as possible, the BBR MX-5 wants to chase the rev limiter with an increased vigour and enthusiasm. Peak power is at 6,700rpm – the 160hp standard car peaks at 6,000rpm – so that revvy and vivacious character is enhanced, giving you even more incentive to chase the engine's upper reaches.
Well, sort of. Don't expect a turbocharged thump in the back, rather it's more an incremental gain. However, it's worth noting that our standard press car has nearly 7,000 miles on it and the BBR just 1,700; knowing how Japanese engines tend to free up with more miles, we would expect that gap in performance to grow in time. And even now, it's a more willing engine.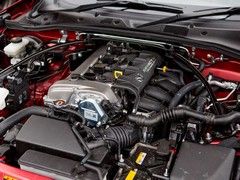 Tweaks push you to chase 7,100rpm redline
Same but more so
So what of the handling? It's much improved, pleasingly. The springs have added a very slightly firmer edge to the ride, but it's entirely tolerable and the pay off in terms of control, precision and confidence is comfortably worth it. The Super 190 is more alert and keener to change direction, but also more natural and fluid in the way it corners too. Gone is the dartiness off-centre, replaced with a more linear response. As the cornering loads build up, you can sense grip progressively ebbing away rather than collapsing in a scrappy mess. It's likely those fractionally wider Eagle F1s help here too. There's additional composure over bumps, which instils the confidence to push that bit harder under both brakes and power. This still on the standard – on the Sport model – Bilstein dampers. It would be interesting to try a car on BBR's Konis, because the ride and handling compromise here seems very good. But through some very simple modifications, the MX-5 not only now has higher limits but also gives the driver more faith to push them; win-win!Combine those tweaks with what is so entertaining about the standard car – it's diminutive size, superb gearbox and strong brakes – and the result is a pretty mega little sports car actually. That gearbox has some close ratios too, so you can really extend the additional urge without feeling irresponsible. With the wind in your hair, that exhaust parping away and the MX-5 handling how it should, it's hard not to conclude that this could well be The Answer To Everything.
Downsides? There are very few. The cost will be a stumbling block for a few, but tuning naturally aspirated engines has never been a cheap process. And some people still won't be able to get over the MX-5 badge. But it's their loss. What was a fun if slightly frustrating roadster at times has become a proper little sports car that enthusiasts will really enjoy, while barely impinging on everyday usability. BBR's Stage 3 with over 200hp is due early next year – we can't wait!
---
MAZDA MX-5 2.0 BBR SUPER 190
Engine: 1,998cc, 4-cyl
Transmission: 6-speed manual, rear-wheel drive
Power (hp): 190@6,700rpm (standard car 160@ 6,000rpm)
Torque (lb ft): 176@3,550rpm (standard car 148@4,600rpm)
0-62mph: 7.3sec*
Top speed: 133mph*
Weight: 1,075kg* (with 75kg driver)
MPG: 40.9mpg* (NEDC combined)
CO2: 161g/km*
Price: £20,095 (Standard car, before modifications; Super 175 kit £495+VAT fitted, £595+VAT DIY inc. OBD port and diagnostics software; Super 190 kit £1,995+VAT fitted, £1,795+VAT DIY inc. OBD port, diagnostics and exchange manifold)
*Standard car; no post-conversion performance figures yet published