Ohlins Road & Track Coilover Suspension - Mazda MX-5 ND
Regular price
$3,490.00 USD

exc VAT
$4,188.00 USD

inc VAT
Regular price
Sale price
$3,490.00 USD
Unit price
per
Sale
Sold out
Share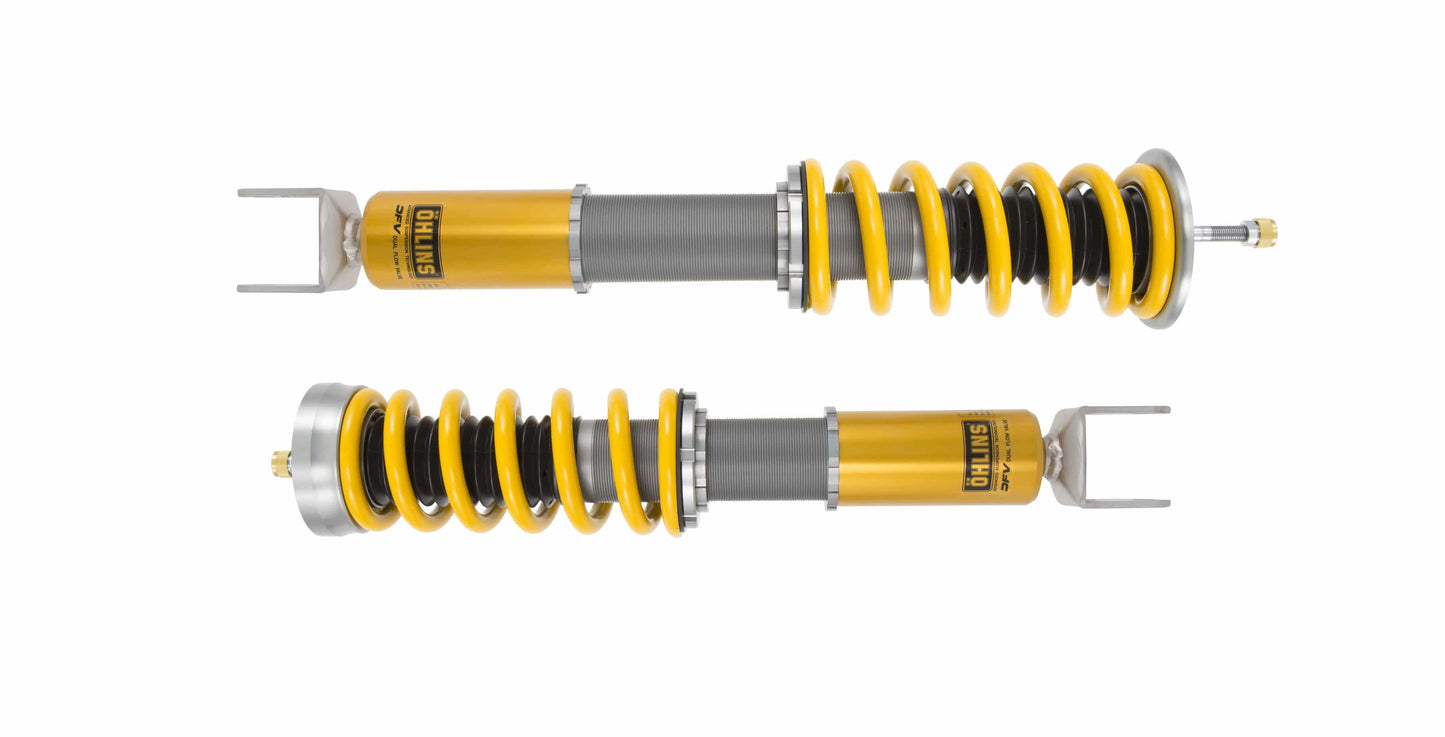 BBR supplied suspension package is £2995.00+VAT fully installed at BBR with geometry set to BBR's bespoke settings using a Hunter pro align (geometry can be tailored to suit a clients specific needs at no additional cost), or £2695.00+VAT for BBR's DIY version.
--
Why Ohlins?
Perfection in performance. That has been the Öhlins way since 1976. We have achieved this through an obsession with detail and quality. Every part of the Öhlins manufacturing process sets new standards for the automotive industry. Whether it's material choice, design, manufacture or even a small detail like packaging. Only when it is perfect can it leave the factory. Our new R&T range finally puts Öhlins incredibly high standards of research, development and manufacture within the reach of the discerning enthusiast. This range is pure Öhlins, but the good news is – you won't need a race team budget to afford it! For us, the relationship with our customers is usually a long and fruitful one. We have supplied many of the top teams in motorsport, but also thousands of genuine enthusiasts. We only manufacture to one quality and every new client is as important as the last. In our view, the relationship doesn't end with that initial sale. We see our role as providing support and back up thereafter, for as long as our client needs it. That's way all Öhlins units are fully serviceable and adjustable, making sure that they give faithful and dynamic service for years to come. Our fully trained and approved service centers can make your old Öhlins units perform like new and even make changes in damper characteristics to suit your set-up preferences. Remember that our road and track range was born out of our Motorsport programme, where the impossible has to be made possible, so you can expect the same level of care and attention to detail on the R&T range. The choice of materials used is one of the key factors behind Öhlins success. Each component is surface treated to ensure reduced friction and superior performance. The piston shaft and damper walls are micro-finished and plateau honed for optimum lubricity and low friction coefficient. This attention to detail is the same across the entire range of Öhlins products. Without this fine surface finishing, excessive friction can reduce the compliancy of the damper causing a loss of function. Damping rate on the R&T units is fully adjustable and ties compression and rebound together as a matched setting, meaning that in 99% of cases, the units will work superbly, straight 'out of the box' with only the smallest adjustments required to suit the car or drivers individual preferences. Despite what other suspension manufacturers may tell you, comfort is king, even when you are trying to set-up a competition machine. Our vast experience on events like the World Rally Championship and Isle of Man TT races has shown us that the fastest drivers and riders are those that aren't being shaken to bits as they go flat out. The 'science of compliance' is a hugely important part of our design work. And last but not least, is durability. But hey, we're Swedish, so chances are you have already guessed that we're used to building components that survive one of the toughest environments in the World. The carbon steels bodies are salt spray tested and can service 240 hours of abuse, whilst still retaining function. Don't let those stunning race car looks fool you. These are real-world units for daily driven cars.
The DFV Technology Advantage!
So what is DFV? It is Dual Flow Valve technology – and it sets us apart from our competitors. Only Öhlins has DFV technology on its road and track products. With DFV, the dual flow valve gives the same characteristics on rebound as it does on compression, thanks the damper fluid having a consistent path of flow in both directions. This means that the wheel and tyre can quickly and effectively resume their important position back on the ground, providing grip and traction. The new Öhlins R&T range uses DFV technology on every single fitment, making it the perfect upgrade for the enthusiast that needs comfort and agility in the one unit.


Because DFV opens more quickly and easily on minor road imperfections, ride comfort is surprisingly supple and more akin to an OEM strut than a coilover set-up. Over undulating surfaces, the compliancy of the R&T units allows the car to crest bumps and pot-holes, whilst still keep stable and in control. Traction is always maintained at its optimum level. When comparing suspension, why settle for second best?
When adjusting ride height on coilover units, it's worth comparing how it's done. On many inferior designs, height is adjusted by raising or lowering the lower spring platform. This has the effect of compressing or extending the spring, which can limit the suspension travel that may cause topping out. The Öhlins method is to leave the spring seat in its perfect position, whilst the lower flange spins easily on the threaded body, to allow you to adjust with absolute precision whilst maintaining the perfect characteristics that we took so long to design in! Once you've set it all up, the adjuster simply locks off to maintain your exact settings. Dampers will get hot. That's one thing that you can be sure of. As the piston moves within the damper, it generates friction – and therefore, heat. Although we can't stop heat, we can deal with it, and this is yet another way that Öhlins differs from the competition. As the heat increases, the viscosity of the damper fluid can change, altering the car's handling characteristics. Our unique needle bleed valve expands with temperature, closing the gap that the fluid travels through, maintaining a consistent damping rate. The best thing of all? You won't even notice! All you'll feel is that the car responds consistently, lap after lap, turn after turn. Allowing you to concentrate on braking points and apexes whilst the Öhlins technology takes care of the damping.
These kits all work well 'out of the box', but there's still plenty of adjustment for you to set things your way. You like stiff and reactive? Or soft and forgiving? It's all there. Too much low speed rebound damping can have an adverse effect on grip, so the easily accessible adjuster at the base of the Öhlins units allows small, but positive increments of fine tuning, so you can take into account every single parameter. Sounds complicated? Nothing could be further for the truth. Just a few clicks either way from our factory settings will soon have your car responding precisely to your inputs and driving style. Most of the Road & Track McPherson struts also feature camber adjustable upper and lower mounts to give you the possibility to fine tune your wheels for the right occasion – whether you want to go for a ride in your neighbourhood or take your car for a spin at the track on a weekend.
General Features:
DFV (Dual Flow Valve)
Rebuildable and serviceable
Height adjustable
Corrosion salt spray tested (ISO 9227)
2 year warranty
Delivery without springs
Front
Conventional shock absorber
Compression and rebound adjustment with one adjuster
Spring preload adjuster
Separate length adjuster
Lowering approx. 15 mm (+10/-15 mm)
Coil Springs
Dustcovers
Use with original top mounts
Rear
Conventional Shock Absorber
Compression and rebound adjustment with one adjuster
Spring preload adjuster
Seperate length adjuster
Lowering approx. 15 mm (+10/-15 mm)
Coil Springs
Dustcovers
Use with original top mounts
Prices
Fully Fitted:
 £2995.00+VAT
BBR's suspension package is  fully installed at BBR with geometry set to BBR's bespoke settings using a Hunter pro align.
(geometry can be tailored to suit a clients specific needs at no additional cost)
DIY:
£2695.00+VAT
OEM Top Mounts must be used (not included).